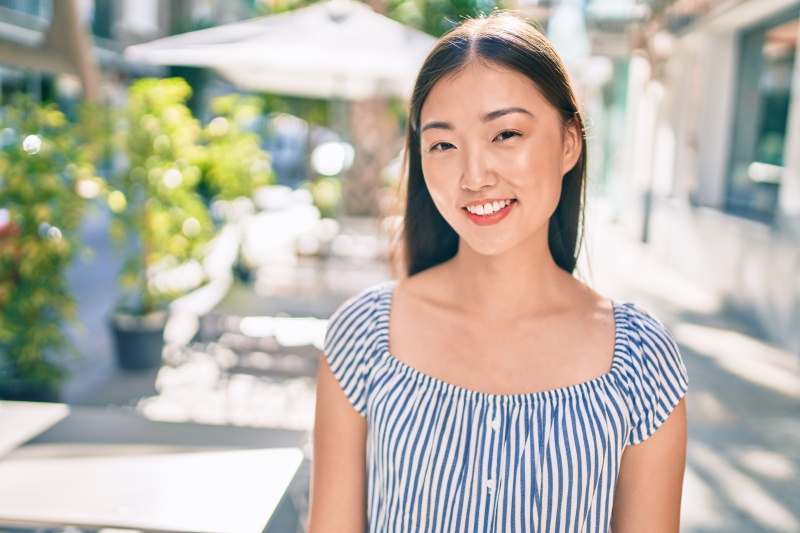 Blog - Celebrating Asian American Pacific Islander Month
Updated on May 1, 2023
Celebrating Asian American Pacific Islander Month
May 1, 2023
May is a time when Americans of Asian or Pacific Islander descent are honored for their contributions to our great country. Here are 8 great Asian and/or Pacific Islander Americans that we celebrate at our Credit Union.
America was founded on the idea that diversity and inclusion breed success and power. Each May, we celebrate the achievements and great contributions of Americans of Asian and/or Pacific Islander descent. With 24 million Americans identifying as Asian and 1.6 million identifying as Native Hawaiian and Other Pacific Islander, according to the 2020 census, they are also a significant population in our country. And our own Credit Union is a great example of that diversity, with many Asian American Pacific Islander members and employees.
In honor of this month, here are four IDB Global Federal Credit Union employees of Pacific Islander descent that we honor and celebrate:
David Dayrit, Head of Finance:
With nearly four years of service to our Credit Union, David says he loves the fact that our Credit Union is so dedicated to diversity, equality, and inclusion. He believes it creates a stronger financial institution and fosters a place where he can share his culture and learn about others.
Judith Badua, Account Manager:
A five-year IDB Global Federal Credit Union veteran, Judith's passion is cooking, which has become the perfect -- and delicious -- vehicle to celebrate her island culture. She enjoys sharing her recipes for lumpia (eggrolls), pansit (noodles), and adobo (chicken or pork cooked in vinegar/soy/garlic) -- and fellow employees enjoy eating her masterful creations!
Mark Cruz, Digital Marketing Specialist:
A relative newcomer to our staff, Mark appreciates the Credit Union's commitment to diversity, equity, and inclusion. A lover of traveling and photography, Mark enjoys exploring and documenting other individuals and regions while sharing his culture. Mark says that cultural exchange and shared respect are one of his favorite things about working at IDB Global Federal Credit Union.
Oki Ali, Fraud Officer:
Our newest staff member, Oki brings over 25 years of experience in the debit card, credit card, and fraud prevention fields. An avid foodie, Oki uses his passion for food and cooking to instill his and his wife's Indonesian heritage and culture in his daughter. He says he is thrilled to work for a financial institution that shares his belief in a diverse workforce being a stronger workforce.
In honor of Asian American Pacific Islander Month, we encourage every member to learn more about the varied cultures that make our country great. Here are 8 Americans of Asian and/or Pacific Islander descent that did just that.
Kamala Harris: As the daughter of parents who immigrated from India and Jamaica, Harris is the first vice president of Asian descent and the first Black and woman vice president. She comes to the White House after serving as California's attorney general and a US senator.
Patsy Matsu Takemoto Mink: Hailing from Hawaii, Mink was the first Asian American woman elected to the US Congress in 1964. Many of her legislative achievements were on behalf of equal rights for women in education. Mink was posthumously awarded the Presidential Medal of Freedom and inducted into the National Women's Hall of Fame.
Dalip Singh Saund: Born in India, Saund came to the US to attend college and soon led efforts that allowed those born in India to become US citizens. Saund became a US citizen and was the first Asian American, Indian American, and member of a non-Abrahamic faith to be elected to the US Congress.
Duke Kahanamoku: A native Hawaiian, Duke was known as the Ambassador of Aloha for his giving, accepting nature. But "The Duke" was also an inspirational Pacific Islander, winning five Olympic swimming medals (three gold), as well as working as a police officer, an actor, and a businessman. He is most famous, however, for bringing the sport of surfing to dozens of countries.
Ellison Onizuka: An Asian American astronaut, engineer, and test engineer, Onizuka was the first Asian American to go into space with the 1985 Space Shuttle Discovery mission.
Susan Anh Cuddy: Of Korean descent, Cuddy was the first Asian American woman to join the US Navy. Entering as a gunning officer in 1942, during WWII, Cuddy reached the rank of lieutenant and served until 1946. She went on to work in US Navy Intelligence, the Library of Congress, and the Department of Defense and lived until the age of 100.
Mary and Joseph Tape: These Chinese immigrants enrolled their American citizen daughter Mamie in an all-white San Francisco public school in 1884. When denied entry due to race, they sued the state of California and won her daughter the right to public education. Though this was dealt with through segregated schools for Asian Americans, it laid the foundations for school desegregation decades later.
Loung Ung: This Cambodian American escaped the Khmer Rouge in 1980 at the age of 10, a harrowing journey which she chronicled in her New York Times Bestseller, First They Killed My Father: A Daughter of Cambodia Remembers. Once she became an American citizen, she tirelessly fought for American veterans and the removal of landmines worldwide.
Please join all of us at IDB Global Federal Credit Union in using May to celebrate the great accomplishments and contributions of Asian and Pacific Islanders to our nation.