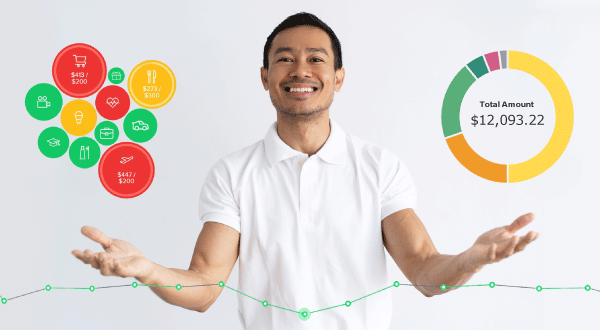 Money Management
Take control of your finances
Money Management is an award winning digital platform that offers extensive data analytics capabilities for your convenience. As a member of the Credit Union, you are offered this new financial tool FREE of charge.
Why use Money Management?
Get a full picture of all your assets, including accounts at other financial institutions
Money Management allows you to see all your accounts, even those with other financial institutions! Simply Add an Account to include funds you have outside of the Credit Union and get the full picture of all your assets. Checking and savings accounts, investments, credit cards, loans, mortgages and other lines of credit can all be added.
Keep an eye on your budgets with interactive bubble widgets
Budgets can help you set realistic monthly spending limits and monitor your progress toward hitting those limits. The Budgets tab draws your eye to the categories that need your attention the most — big bubbles represent a larger portion of your monthly budget, and red bubbles have exceeded your monthly allowance.
View all your gains and losses in a detailed net worth analysis graph
The Net Worth tab tracks the sum of all your assets and liabilities, showing each gain and loss you have had per time period. You can even add key assets, such as the value of your home or vehicle. The graph displays historical data the longer you use Money Management, so you can watch your Net Worth going up over the months and years.
Set long-term financial goals by developing a savings plan
The Goals feature can help you plan ahead and visualize long-term financial objectives, such as saving for a home or vacation. This tool provides a timeline of prioritized goals, and projects how long it will take to complete each goal based on your saving plans.
Understand your spending habits and make smarter decisions
The Spending tab shows you where your money is going, by category, so you can better understand your spending habits and stay on track. Your transactions are automatically sorted out to give you an instant snapshot of your top spending categories and help you make better decisions.
Control your liabilities with debt payoff forecasting
The Debts tab is a powerful tool that allows you to see all your debts in one place, create an expedited payoff plan, and calculate the time and money to be saved by using the debt snowball strategy. Payoff dates and the amount you save are automatically calculated based on your debt balance, interest rate, and minimum payment.
Monitor your cash flow and plan ahead for recurrent charges
The Cash Flow tab combs through your transactions to show your historical spending and predict your future spending. It allows you to easily identify and add recurring bills and payments, as well as one-time or annual payments, such as property tax. It helps you see the impact of upcoming payments and plan ahead.
---
Money Management is available for free within Online Banking. Log in today and start taking full advantage of all Money Management features!
---
Not using Online Banking?
Simply enroll in Online Banking and login with your new username and password to begin using Money Management.