VISA Credit Cards
Build your credit the smart way
Whether you have no credit, or already have a proven credit history, we have a card for you! Our VISA Credit Cards have a lot to offer regardless of where you live.
Already a member?
APPLY ONLINE CHECK APPLICATION STATUS
Not a member yet? Become a member and apply for a Credit Card!
Interested in our Visa Platinum Rewards Credit Card?
BENEFITS
Low APR and fees
24/7 Member Service Center with bilingual staff
Helps you build credit history
Excellent travel benefits
Verified by Visa Online Purchase Protection
Visa Zero Liability and Fraud Monitoring
Automatic Payment Options
Online Statement Access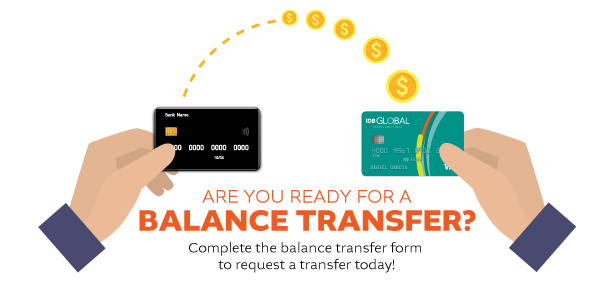 ---
Credit Card Balance Transfer
How much can I save by transferring my credit card balance to IDB Global Federal Credit Union?
Existing Monthly Payment:
$1,196.94
New Monthly Payment:
$617.10
Amount Saved:
Save $34,790.71 in interest!
*Calculator provides general estimations only. Inconsistencies may occur with the use of the calculator and the outcomes are not credit guarantees. For specific payment and interest information, please contact us.
CREDIT CARD ACCOUNT ACCESS

a credit card management experience for credit card holders!
We are excited to announce that a new and improved IDB Global Federal Credit Union Credit Card experience within Online Banking is here! Members can enjoy an optimized experience on any device — desktop, tablet, or mobile.
Please log in to Online Banking to enroll your IDB Global Federal Credit Union Credit Card.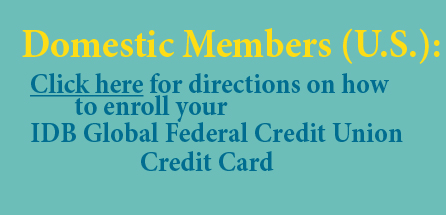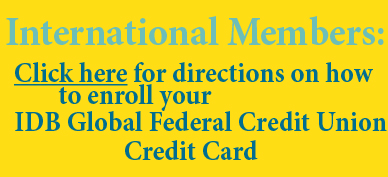 CREDIT CARD SERVICE CENTER
Domestic U.S. and Canada:
1-800-944-2726
International Collect Calls:
1-781-756-8160
Enable Credit Card Pin or Reset:
1-888-891-2435
---
VISA CLASSIC
Up to $15,000 limit

No Annual Fee

Lower Interest Rates

11.875%* Variable

No Foreign transactions fees

No Balance transfer fees

No cash advance fees

Auto rental collision

And many other travel benefits
Classic Credit Card Disclosure
Classic Credit Card Cardholder Agreement
For more information about our credit cards benefits click here
VISA CLASSIC NATIONAL
Up to $5,000 limit

No Annual Fee

Exclusively for Country Office Staff

11.875%* Variable

No Foreign transactions fees

No Balance transfer fees

No Cash Advance Fees

Auto rental collision

And many other travel benefits
Classic National Credit Card Disclosure
Classic Credit Card Cardholder Agreement
For more information about our credit cards benefits click here
CREDIT CARD RATES (Effective as of 01/01/2023)
| Credit Card Rates | APR |
| --- | --- |
| Classic | 11.875% |
| Platinum | 14.375% |
APR = Annual Percentage Rate
Rates and Fees