Online Banking
A Second Branch Wherever You Go
Need to access your account, but don't have time to visit the branch? Online Banking is the free online answer to managing your Credit Union accounts available 24 hours a day, 7 days a week. So no matter where you live, an IDB Global Federal Credit Union virtual branch is just a few clicks away!
Mobile App
Discover the many features our IDB Global FCU Mobile App offers
Bank fast and conveniently
Because Online Banking gives you a direct connection to the Credit Union, all your transactions take place immediately. You can use Online Banking on your personal computer, smartphone, or tablet.
10 things you can do with online banking:
Check account balances: Check balances and manage your accounts easily with the convenience of online banking.
Pay and manage bills: Use our free Bill Pay service to pay bills, and eliminate the hassle of writing checks
View, print, and review your monthly account statements: Access and review your monthly statements from the comfort of your couch.
Order personal checks: Order & reorder checks online through your Online Banking account.
View check images: View and print check images through your Online Banking account at your convenience.
Request services through secure forms and applications: Within Online Banking you can request a Change of Address or travel notification, apply for a loan or debit card, apply for a debit card, stop payments on checks or an indemnity order, make a domestic or international wire, or close your account.
Access Money Management: Monitor your overall financial health, including external accounts
Obtain secure email support: Simply submit inquires to the IDB Global Federal Credit Union, and we will get back to you within two business days.
Set up alerts: Get notifications such as balance limits, deposit withdrawals, and more.
Transfer funds: Move money between your IDB Global Federal Credit Union accounts, accounts you own elsewhere, and even send money to your friends and family.
Take Advantage of Exclusive Cash Back Offers
Have you started saving real money on the stuff you already buy? Earning cash back is easy with Purchase Rewards.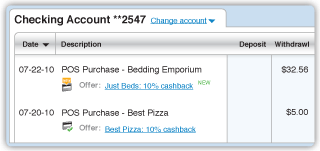 Click on the offer you want to activate for exclusive cash back offers.
Shop online or in stores to redeem your offers by paying with your card.
Enjoy cash back – deposited right into your account at the end of next month!
Email and TEXT MESSAGE banking alerts
Receive timely alerts about your Credit Union account transactions, sent right to your email or wireless device. Text or email alerts help notify you of large deposits and guard against low balance, unusual activity and fraud.
To Set Up Alerts:
Log in to Online Banking
Click on "Additional Services" in the main menu
Click on "Mobile Banking and Alerts"
Enter your phone number or email to start receiving notifications