Debit Card
Convenience and Security
Using a Master Card Debit Card is easier than writing checks, safer than carrying cash, and more secure than ever before!
APPLY FOR A MASTERCARD DEBIT CARD
Our MasterCard Debit Card is all about convenience. You can use your debit card to make purchases at millions of locations worldwide, and easily track your spending since your transactions will be available on your account history in both your online account and monthly statement.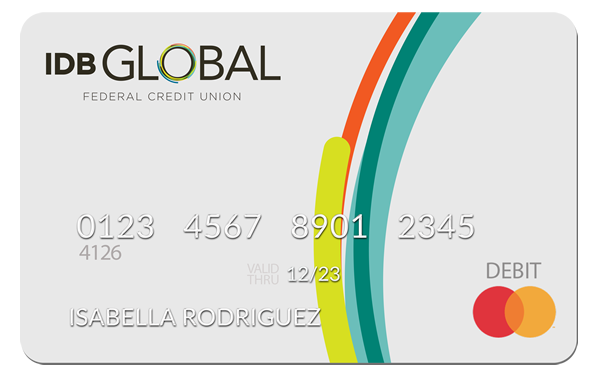 Log in to Online Banking and apply for a debit card online!
Follow these steps:
Log in to Online Banking
Find the Forms tab in the main menu
Choose "Debit Card Application" from the drop-down menu
Enter your information and click Submit
---
24/7 Debit Card Call Services
| | |
| --- | --- |
| 24/7 Card Activation and PIN reset | 1-866-642-0450 |
| 24/7 PIN Change | 1-877-265-9594 |
| 24/7 PIN Change (International Card) | 1-202-623-3363 |
| 24/7 Lost/Stolen Card or General Inquiries | 1-866-664-9364 |
| Debit Card Dispute | 1-800-808-6402 |
*Follow your local telecom procedure to speak to an operator and initiate the collect call free of charge. If you call directly, international charges will apply to you.
---
TRAVEL NOTIFICATION
Traveling abroad? Make sure to let us know so you can use your card.
---
DEBIT CARD FEATURES & BENEFITS
Accepted everywhere MasterCard is accepted
Can be used at over 28,000 surcharge-free ATM's
10 FREE ATM transactions per month with only $1.00 per transaction thereafter
Access to cash through MasterCard, STAR, CO-OP, Alliance One CIRRUS, Jeanie and Accel ATM networks
Access to instant line of credit when you set up overdraft protection for checking accounts
Ability to manage it anytime, anywhere using MobiMoney – turn it on and off, see real time alerts on transactions, and even manage security settings
Mastercard ID Theft Protection™ - Identity Theft resolution services
Mastercard Airport Concierge™ - Enjoy a 15% saving on Airport Meet and Greet services
Mastercard Global Service™ – Provides 24/7, worldwide, lost and stolen card reporting assistance
Review our Debit Card disclosure and schedule of fees.
Automatic billing updater (abu)
The IDB Global Federal Credit Union has implemented a feature called Automatic Billing Updater (ABU) for all MasterCard debit cards. ABU helps reduce the chance of declined transactions, missed payments, late fees, or disrupted services due to outdated card information by automatically updating the card information you have on file with participating merchants.
How does ABU work?
Once you renew an expired card, MasterCard automatically shares your new card information with your subscribed merchants who participate in the ABU program.
Are all my payments automatically updated?
No, only payments with merchants that participate in the ABU program will be updated. Also, the Credit Union does not influence when the payment information gets updated on behalf of the participating merchants.
What happens if my card is lost or stolen?
ABU only goes into effect when a card expires. Therefore, if your card is lost or stolen, you must contact your merchants directly and provide them with the updated information.
Can I opt-out of ABU service?
Yes, you may opt out of the ABU service by filling out the following form.
Who can opt out of the ABU service?
The cardholder must opt out of the ABU service.
---
MANAGE YOUR DEBIT CARD WITH MOBIMONEY

MobiMoney is a FREE mobile app* that offers you a convenient way to manage your debit cards. It enables IDB Global Federal Credit Union cardholders to:
Easily turn on/off their cards
Receive instant alerts on their mobile devices
Limit usage based on location, transaction type, and threshold amounts
Set merchant preferences
View debit card transaction history
* MobiMoney is only available to members in the U.S.
How to Register
Download the MobiMoney app from your device's app store
Open the app and choose he "New User" button
Enter your debit card information
Configure settings based on your preference.