Debit Card
Convenience and Security
Using a Mastercard® Debit Card is easier than writing checks, safer than carrying cash, and more secure than ever before!
NEW! Debit Card Instant Issue is here!
No more worries if your card is lost, stolen, or damaged – we have you covered! You can now get a new contactless debit card instantly at our branch! We are thrilled to let you know that we now offer Instant Issue for Debit Cards. This means you will not have to wait for days to get your card and access your funds. The best part is that your new card will be activated immediately.
Why wait for snail mail? Just drop by our branch and get your new debit card straight away! Experience the ease and efficiency of Instant Issue – Because in our world, we focus on you!
And do not forget, your IDB Global Federal Credit Union Debit Card can be used at these ATM networks:

contactless debit card - new!
Fast - Easy - Secure

With the NEW Contactless IDB Global Federal Credit Union Mastercard® Debit Card, you can now tap to pay for fast, easy and secure checkout.
Contact us, to find out how to secure the new Contactless Debit Card.
To learn more about Contactless Debit Card capabilities, click here.
MY REWARDS - nEW!
Our new My Rewards program makes earning cash back on everyday debit card purchases more convenient and more lucrative than ever! With more offers from your favorite merchants, all at your fingertips through online and mobile banking, earning cash back is as easy as click, shop and save!
APPLY FOR A MASTERCARD® DEBIT CARD
Our Mastercard® Debit Card is all about convenience. You can use your debit card to make purchases at millions of locations worldwide, and easily track your spending since your transactions will be available on your account history in both your online account and monthly statement.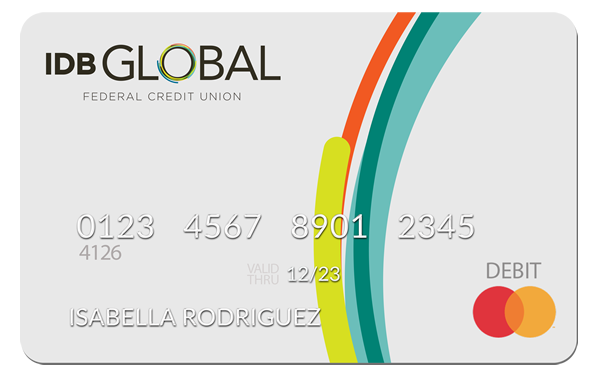 Stop by our branch to have your debit card issued instantly, or log in to Online Banking to request it online!
Follow these steps:
Log in to Online Banking
Find the Forms tab in the main menu
Choose "Debit Card Application" from the drop-down menu
Enter your information and click Submit
---
24/7 Debit Card Call Services
24/7

Pin Change Domestic Cardholders

.

1-833-990-0747

24/7

Pin Change International Cardholders

.

1-859-488-4134

24/7 Lost/Stolen Card or Support

Outside of the U.S.:

1-866-207-9154

Debit Card Dispute

1-866-279-1399
*Follow your local telecom procedure to speak to an operator and initiate the collect call free of charge. If you call directly, international charges will apply to you.
---
DEBIT CARD FEATURES & BENEFITS
Accepted everywhere Mastercard® is accepted
Can be used at over 28,000 surcharge-free ATM's
No ATM Credit Union transaction fee
Access to cash through Jeanie, Cirrus, Accel, CO-OP, and Star ATM networks
Access to instant line of credit when you set up overdraft protection for checking accounts
Mastercard ID Theft Protection™ - Identity Theft resolution services
Mastercard Airport Concierge™ - Enjoy a 15% saving on Airport Meet and Greet services
Mastercard Global Service™ – Provides 24/7, worldwide, lost and stolen card reporting assistance
Review our Debit Card disclosure and schedule of fees.
---
manage your debit cards with debit cards control
In our world, we focus on you, and an essential aspect of our focus is to make sure your finances are as secure as possible. To build upon this promise, we are proud to announce our latest Online and Mobile Banking feature called Debit Cards Control.
Debit Cards Control provides the tools you need to help control how, when, and why you use your IDB Global Federal Credit Union Debit Card.
Features include:
List of your debit cards in one location
Setting Alert Delivery Preferences*
Blocking International Transactions**
Turning your cards ON or OFF
Limiting merchant or transaction types
Establishing spending limits and more!
Interested? Click on "Learn more" for additional details on Debit Cards Control. Or, if you're ready to try it out now, click on "Log in to Online Banking" to begin your journey.
learn more log in to online banking
*SMS text message alerts are available for United States members only.
**This feature is only available for members residing in the United States.
TRAVEL NOTIFICATION
Traveling abroad? Make sure to let us know so you can use your card.