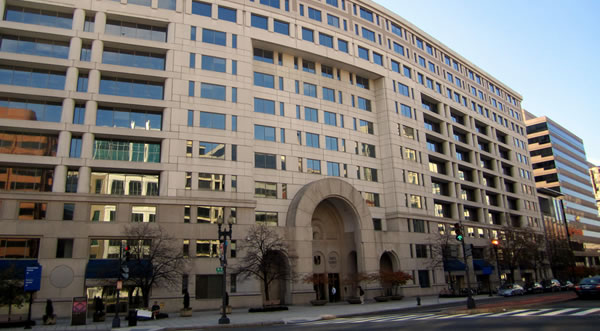 Branch Location
IDB Headquarters – Washington, D.C.
Our head office is located in the building of the central offices of the Inter-American Development Bank in the East Wing of the ground floor.
New York Avenue Location
The IDB Global Federal Credit Union branch is located within the Inter-American Development Bank headquarters at 1300 New York Ave NW, Washington, DC 20577. Some of our in-branch services include in-person teller assistance, member service officers, and one-on-one appointments with our lending specialists.
Address: 1300 New York Ave. NW
Washington, DC 20577
Mailing Address
P.O. Box 27377
Washington, DC
20038-7377
Business Hours
Mon-Fri:
9:00 am to 5:00 pm ET
Branch Hours
9:00 am to 4:00 pm ET
wires
Mon-Fri:
9:30 am to 3:30 pm ET
Holiday Closures
Phone: 202-623-3363
Fax: 202-312-4200
Routing Number
254074183
You can visit this branch to:
Open an account
Apply for a loan
Apply for a credit card
Deposit a check
Withdraw money
Schedule an appointment
Make a wire transfer
Update account info
Visit our branch: