Our Low 5.50% APR* Special Rate Auto Loan Could Save You Thousands Of Dollars!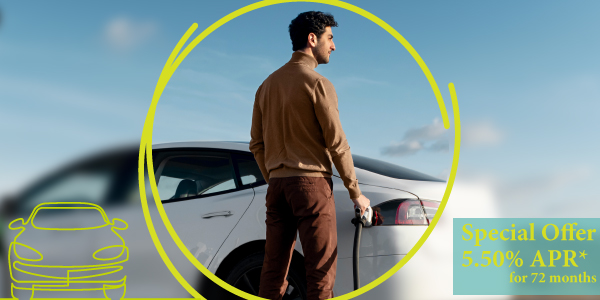 In today's world, securing a low-interest rate on your new or used auto loan is crucial. Not only does it mean a reduced overall cost for your vehicle, but it also brings peace of mind.
As your financial partner, we are thrilled to introduce our limited-time special: an incredible special 5.50% APR* for 72 months on auto loans for new or used car purchases. You could potentially save hundreds or even thousands of dollars over the life of your loan!
How competitive are our auto rates? Let us put things into perspective. Consider that the average new auto loan rate across all credit profiles is 6.58%, with used auto loan rates averaging 11.17%.** By choosing our 5.50% rate, you would save $1,100 for a 72-month loan on a $30,000 amount compared to the average 6.58% rate!
But it does not end there. We believe in empowering you to make choices that suit your preferences. That is why we offer you flexibility. If you sign up for Direct Deposit and Auto Pay from your IDB Global Federal Credit Union account, we will sweeten the deal with an additional discount of 0.50% to bring your rate down to an unbeatable 5.00% APR*! This exclusive offer is designed to make your new or used car more affordable while providing you with convenience and financial benefits.

Loan application is fast and easy, so contact us to see how we can help make a new or used car more affordable for you today!
*APR = Annual Percentage Rate. Loans are subject to credit qualifications and approval. The offer ends September 30, 2023. Vehicles must be model year 2015 or newer with less than 100,000 miles. Up to 100% financing is available. The maximum loan amount is $75,000. Members must provide a vehicle CARFAX® report. Payment example: New auto loan of $30,000 for 72 months at 5.50% APR will have a monthly payment of $490. Other programs and loan options are available. Contact an IDB Global Federal Credit Union representative for loan details and restrictions.
**As reported by MarketWatch on June 5, 2023
WE ARE GOING THE EXTRA MILE TO SAVE YOU MONEY ON YOUR USED CAR LOAN!
Financing a used car loan often can mean higher rates and frustration that can keep you off the road.
Some of the benefits of taking a vehicle loan with us:
Fast pre-approval
Monthly payments to fit your budget
No prepayment penalties
Simple interest
Financing up to 100% of the purchase price
---
How we determine the loan amount for used vehicles:
Our Used Car loan values are determined using the NADA (National Automobile Dealers Association) Used Car guide. Many factors and qualities are used to determine the vehicle value. Here are a few:
Year, Make and Model
VIN (Vehicle Identification Number)
Mileage
Special Features
FIXED RATE
Fixed rate vehicle loans provide you with the security of knowing your payment amount for the life of the loan. If you like to set a budget for expenditures, this is the loan option best suited for you. You may want to select this loan option if you are:
Looking to pay consistent payments throughout the life of the loan
Planning to keep the car longer than the life of the loan
Certain of the exact date your car will be paid for
---
Variable Rate
Variable rate vehicle loans fluctuate in interest rate. IDB Global Federal Credit Union vehicle variable loan rates are adjusted quarterly.You may want to select this loan option if you are:
Not planning to keep the car for a long period
Looking for lower payments at first
Interested in purchasing a higher priced car
QUESTIONS? Just contact our Lending Department to get started.
Vehicle Loan Rates
Effective as of 07/01/2023
Vehicle Loan Rates (Fixed Rate)
Term (months)
24
36
48
60
72 (NEW)
Up to 80% LTV Ratio
3.000%
3.500%
4.000%
4.500%
5.000%
Payment per $1,000
$42.98
$29.30
$22.58
$18.64
$16.10
Over 80% - 100% LTV Ratio
3.500%
4.000%
4.500%
5.000%
5.500%
Payment per $1,000
$43.20
$29.52
$22.80
$18.87
$16.34
Over 100% LTV Ratio
4.000%
4.500%
5.000%
5.500%
6.000%
Payment per $1,000
$43.42
$29.75
$23.03
$19.10
$16.57
All rates are subject to change daily. Disclosure information.
Effective as of 07/01/2023
Vehicle Loan Rates (Variable Rate)
Term (months)
24
36
48
60
72 (NEW)
Up to 80% LTV Ratio
6.250%
6.500%
6.750%
7.000%
7.250%
Payment per $1,000
$44.43
$30.65
$23.83
$19.80
$17.17
Over 80% - 100% LTV Ratio
6.750%
7.000%
7.250%
7.500%
7.750%
Payment per $1,000
$44.66
$30.88
$24.06
$20.04
$17.41
Over 100% LTV Ratio
7.250%
7.500%
7.750%
8.000%
8.250%
Payment per $1000
$44.89
$31.11
$24.30
$20.28
$17.66