IDB Global Federal Credit Union Spotlight: Natalia Esguerra Rezk for National Hispanic Heritage Month
Updated on October 3, 2022
Natalia Esguerra Rezk for National Hispanic Heritage Month
October 3, 2022
What is Hispanic culture known for?
Hispanic culture is known for its vibrant and colorful traditions. From the music and dance of Flamenco to tasty cuisine, there is so much to celebrate about Hispanic heritage.
This September 15th - October 15th, we celebrate National Hispanic Heritage Month. Hispanic cultures have a deep-rooted family history as well as rich culinary traditions, music, religious traditions, and holidays passed through generations. September 15th is Independence Day for many Hispanic countries, with national Hispanic heritage celebrations running through October 15th. This year's theme is "Unidos: Inclusivity for a Stronger Nation." The theme celebrates the diversity of Hispanic and Latino cultures in the United States. It also highlights the contributions of Hispanics and Latinos to the country's history, culture, and society.
The expansion of Hispanic population in the United States has increased rapidly in recent years. In 2010, there were 50.5 million Hispanics in the U.S., making up 16% of the population. This is an increase from 35.3 million in 2000 and 12.5% of the total population. By 2050, it is projected that the Hispanic population will reach 132.8 million, making up 30% of the U.S. population.*
The Hispanic community has made significant contributions to the United States in a variety of fields. Hispanics have been involved in politics, military, science, entertainment, and sports. In addition, many Hispanics have made significant contributions to the arts and literature.
IDB Spotlight: Natalia "Nati" Esguerra Rezk
IDB Global Federal Credit Union took some time to sit down with a previous employee and friend of the Credit Union, Natalia "Nati" Esguerra Rezk, and talk about her experience moving to another country, the challenges she faced, and how our financial offerings were able to help her meet milestones in her life.
"When I first went to the IDB's headquarters, I realized there was a credit union for employees and their families," says Nati. " I thought that was super convenient and helpful, more when you are new to this country and don't have any credit history in the U.S."
Nati's story is one that has been told many times throughout American history. Hispanics make up the largest minority group in the United States, with over 50 million people – totaling 17% of the U.S. population.*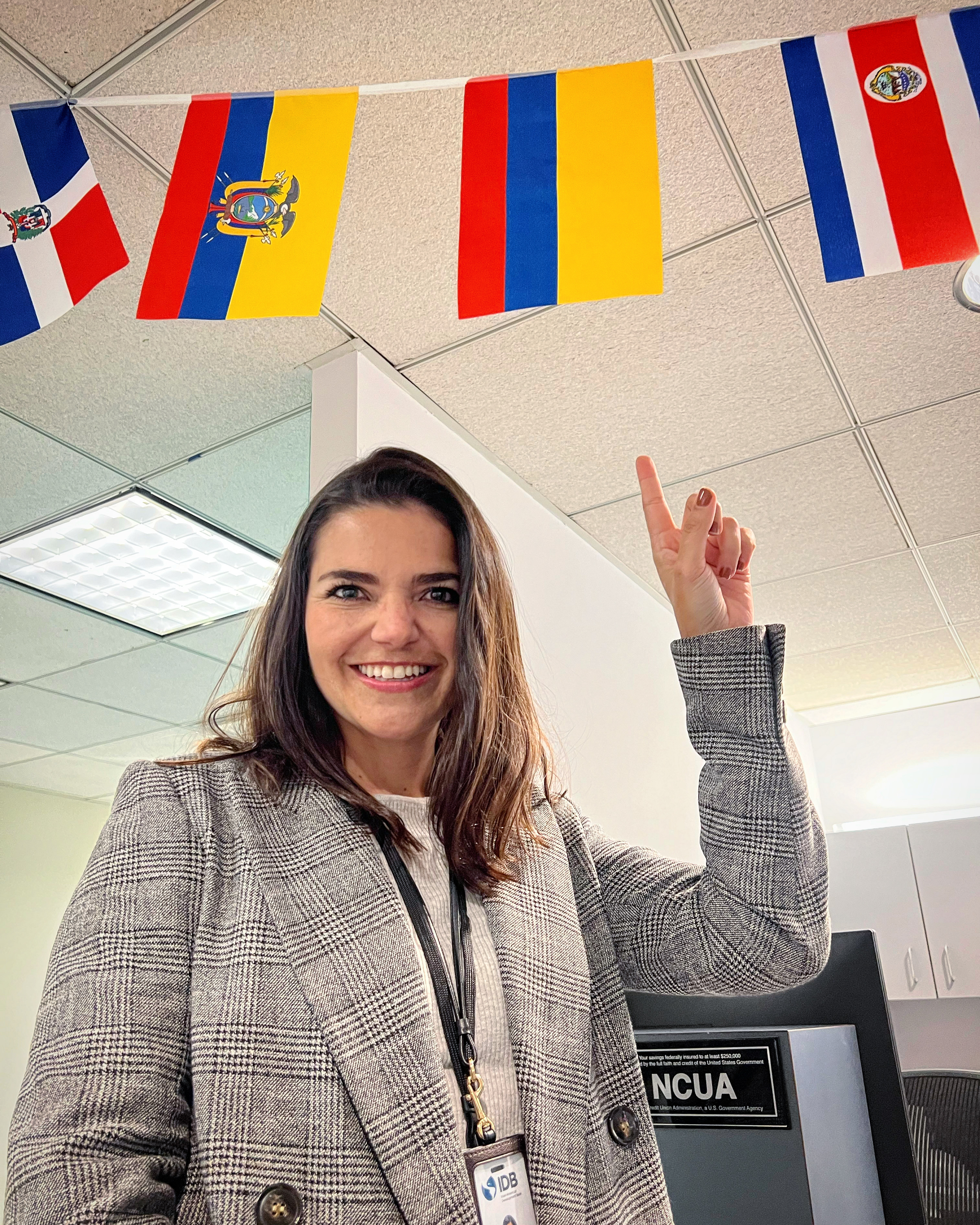 "The Credit Union has accompanied me during some of the milestones in my life and helped me create memories I will never forget," Nati states. "They care about the financial wellness of their members. The Credit Union has been transforming and adapting to support members' unique needs and goals but always maintaining the same dedication and passion. I think the best asset of the Credit Union is the staff. They are diverse, multicultural, welcoming, and inclusive. They speak your language, and as a member, that makes a difference!"
Nati cites the move to America itself as one of the greatest impacts on her career trajectory. "Having the opportunity to move to another country and face the challenges it brings," she elaborates, both personal and professional. Stepping out of your comfort zone, embracing a new culture, and getting inspired by a new way of living."
Nati worked for the Credit Union for three years as a Marketing Manager, before becoming a Senior Communications Analyst at the IDB. She looks at these early years as fruitful endeavors that allowed her to cement a life for her in a new country.
"I would say one of my greatest achievements was managing the Credit Union's rebranding process. It was an opportunity to redefine its purpose and create a brand that represents the Credit Union and its membership."
Nati is highly passionate about her relationship with the Credit Union. "To be honest," she says, "I think I am one of the most loyal former employees and members of the Credit Union."
Her connection with IDB has brought strong, impactful changes to her life outside of work as well. "I don't have any more future plans because they are a reality today with the support of the Credit Union," she says. "More than my financial institution, the Credit Union has been my community."
IDB Global Federal Credit Union is proud to have such a connection with its employees and Credit Union members. A credit union strives to provide financial education and reliable support for employees like Nati as they embark on significant life changes and look to make their mark on the world.
During Hispanic Heritage Month, various events are held to commemorate the contributions of Hispanic Americans. These events include festivals, parades, concerts, and other cultural events. Many schools also hold special events and activities to teach students about Hispanic heritage and culture. TV and radio stations may also feature special programming during Hispanic Heritage Month. IDB Global Federal Credit Union is delighted to contribute by sharing Nati's accomplishments and learning from her insights.
When asked what advice she would give to other professionals with similar backgrounds, Nati reiterated her mantra of stepping out of one's comfort zone, a practice that has served her well along this process. "Be curious, she says. "Never stop learning. Be a team player. Ask questions."